A photo of Song Eun Ee transformed into 2NE1′s style has been revealed.
On October 14th, Song EunE revealed her 2NE1 fashion through her personal twitter which has caught the interest of netizens.
Song Eun Ee tweeted, 'I'm 3NE1′s cute maknae, Song Minzy!' along with the photo. Song EunE's hip-hop style black tank top, hot pink baggy pants, white shoes, and crooked hat shows off a similar appearance to 2NE1′s fashion style.
Following Song Eun Ee, Shin Bongsun transformed into CL which brought amongst laughter. Song Eun Ee tweeted, '3NE1′s CL-roobong. Unni!' along with a picture of Shin Bongsun posing wearing a studded leather jacket, blonde wig, and unique sunglasses.
Hip-hop singer Jinusean's Sean replied back with a funny response toSong Eun Ee. He tweeted back, 'Very carefully. Am I not 4NE1?' which made netizens laugh.
Netizens replied, "Kind question and Song Eun Ee makes me cry twice. So funny", "Song Eun Ee looks so young", "The more you see CL-roobong, she's more attractive", "It may be 3NE1, but in reality it's 4NE1. Tears are flying" (Picture=Song EunE's twitter)
JeongJiWon reporter jeewonjeong@
Shin Bongsun and her fellow "Muhan Girls" castmates were also recently caught doing a HILARIOUS and bizarre parody of "I am the Best".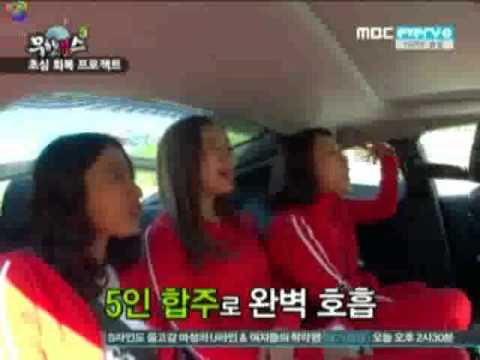 cr: CLBaddestFemaleBlog
Infinite Girls (a.k.a. Muhan Girls) is an all-female version of a the popular variety show called Infinite Challenge.