If "I Love you" could be expressed in 1-4-3 the Korean word "chingusai" (friendship) has also its own ciphered version. And that would be the unique name of the new boy group called 7942, read as Chil-Gu-Sa-Ee (CGSE). Watch Korea.com's exclusive sit and talk with the group and get a chance to win a copy of their signed CDs.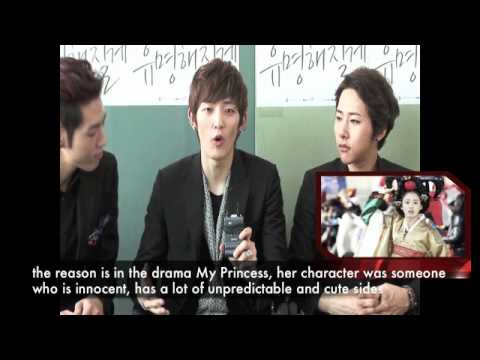 CGSE is composed of four talented individuals (Eungjoo, Haenghoon, Hoon and Jonghyun) with impressive backgrounds as performing artists. Haenghoon (leader and main-vocalist) was a b-boy dancer before he decided to join the group. He said performing on stage makes him happy and he loves the feeling of being cheered on stage. Aside from having the best body in the group he also likes to cook. Hoon (sub-vocalist) on the hand already dreamed of becoming a singer since he was younger. He went through a lot of trainings making him a versatile performer good at singing, dancing and acting.
Most members think that Jonghyun (main vocalist) is the most popular among them. With his looks and voice, one would understand why he is pursuing a career in the entertainment world. Being part of a band in high school was his first step to the music industry. He was also part of the KBS Qualification Men's choir and the group J.Rich formed in 2010. The tallest member Eungjoo (maknae, sub-vocalist) is already a known name in the musical industry in Korea. Before his debut as a member of 7942, he played the lead role in the musical "Grease" as Danny. He majors performing arts at Sungkyungkwan University so singing and acting are just some of his forte.
The group had their debut last April with their single I'll Be Famous (Related articles 1,2). However, even before their debut the group was already busy filming for the drama "I Love You," which is a work collaboration between Korea and Indonesia. The group said that even before their official debut they already have fan bases in Indonesia and France. The company representative told us that the promotions for their debut single is just to show their vocal skills to the audience. Later on, in their succeeding singles, fans can expect a different and more powerful vibe of the group. Make sure you follow them on Twitter (Eungjoo, Haenghoon, Hoon and Jonghyun) and Facebook.
Source: Korea.com