Who says Twilight is only for Edward and Bella? Forget about the movie or the vampires, in the K-Pop lexicon, Twilight is a boy group composed of seven young and talented individuals. Trend World Idol- light as it stands for, emanates a wonderful message just like the original meaning of the word. Bid your 'Hellos' and get ready to be dazzled by their charms. And there will be signed Twilight CDs giveaway so stay tuned for our announcements!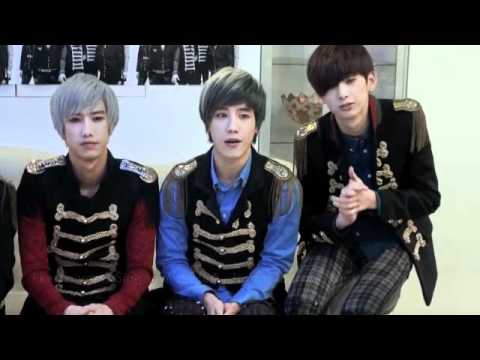 TWI-light sit in for an interview with Korea.com to answer some questions from their fans abroad. The group had their debut in summer of 2011 with their single "Without You."  They are currently having their comeback with a self-titled single "Twilight" and few changes of the members' line-up.
The leader of the group Siwan (rap) is a certified fashionista. Before his debut he used to work in the fashion industry and also studied acting. He's very passionate about writing rap lyrics where one of his works got featured in a song. He also had some experiences as a featured rapper in other artists' tracks.
You might have mistaken him as 2AM's Jinwoon or maybe his younger version. Probably the most sought after member of the group, Hee Cheon (sub-vocals). He is known for a TV commercial where he played the role of Pinocchio. He started as a child actor, starred in many productions and even received awards but his urge for dancing and singing made him decide to take another path.
You can now add one more idol into your list of idol B-boy dancers.  Charming Jae Youn (dance, vocals) started B-boying when he was in middle school but due to the nature of the dance his parents convinced him to consider another career. Since he also likes to sing, he decided to take the challenge of becoming an idol where he can hone both interests.
It seems that 2AM's Jokwon and Infinite's Sungjong found their new counterpart in this group. Min Yeong (vocals) is celebrated for his funny portrayals of female roles and girl group dance steps. Not only that, he is also a gifted musician. He majors music in a university and also plays piano.
To add to the teeming pool of talents are the new members of the group TN, Tae Sung and Black.
Heartthrob TN (rap, vocals) is very fluent in Chinese and Korean. He lived in China for seven years but came back to Korea to chase his dream of becoming a singer. Before his debut he had starred in many independent films and appeared in some TV commercials.
The new main voice of the group, Tae Sung (lead vocals) was already an actor even before his debut as an idol singer. He already appeared in some TV dramas and music videos. Just like most young aspiring artists in Korea he also used to perform with an indie band in Hongdae.
The youngest member of the group, Black (vocals) is only 17 years old. According to a representative of Yeil Entertainment, Black as a trainee displays a huge potential as an artist. Not only that he's talented, his passion and perseverance in achieving his dream is also remarkable. He also received many awards in several dance competitions before his debut.
Source: Korea.com