Ah, the month of love next year in February will be especially kind to Kiss me's based in Indonesia, for not only one, but seven princes of U-KISS to greet and enchant all Indonesia Kiss Me on 1 and 2 February 2013!
That's right, for 2 days, we heard that fans will get a chance for once in a lifetime special opportunities from U-KISS. Considered Indonesian fans lucky: it's the only South East Asia country to be having a showcase in between their Japan and South America tour schedule! Prepare your hearts as Oppa Oppa Live brings you '2013 U-KISS Showcase & Fan Party in Jakarta'!
We know you want to know what's in store for those two days, so we'll spill a bit of the deal: Prepare for a romantic 'Fan Party', a full-on day of activities with fans in form of fan sign, high five, hug session, group photo and dinner session on the first day. These activities will be held as sign of Kiseop, Eli, Kevin, Kiseop, AJ, Hoon, and Soohyun to repay their fans love!
Of course, a showcase to perform all your favorite tunes will be held on the next day at Tennis Indoor Senayan. We heard that they've prepared 10 songs, but there's more than just to see their energetic and mesmerizing performances – prepare questions you're most curious about them as they will hold a Q&A session, following to a ton of fun through interaction in games and gift-giving!
More than that, we'll spill all the beans – we can't do because we've promised to not kiss and tell their surprises! All seven members are here to tell you exactly what you can expect: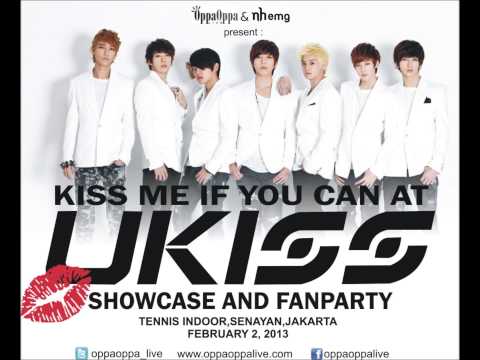 Tickets are available through Oppa Oppa Live.
Do you think you're the very audience that will have a chance to kiss them? Kiss them if you can as we will see you next year, who knows Korea.com might catch you in the action with U-KISS!