Actor Lee Jang Woo and T-ara's Eunjung had their first 'couple's fight' during the June 25th broadcast of MBC's 'We Got Married'.
On this episode, the couple went to the beach to go camping. While camping, the two went to the shore to go digging for clams, but they were unsuccessful. After they followed a resident from the area and received tips on how to dig for clams. After using the tips, together, the two put their hands into a pit and found an abundance of clams.
The fighting started with an argument about what food to make with the clams. After boiling the clams, Eunjung threw away all the broth. Lee Jang Woo, who saw this, became shocked, saying, "That soup is rich broth!" Eunjung replied, "You can't eat it because there is too much sand" – creating a warlike atmosphere.
On top of this, Lee Jang Woo lost his couple ring while digging for the clams. When he noticed that his ring was missing, he clearly looked surprised and embarrassed. The lost ring plus the broth that was poured down the drain set the stage for this couple's first fight.
Additionally, a preview for next week's episode shows Eunjung clearly upset with Lee Jang Woo and leaving him to sleep alone in the tent while Lee Jang Woo begs for her to come back.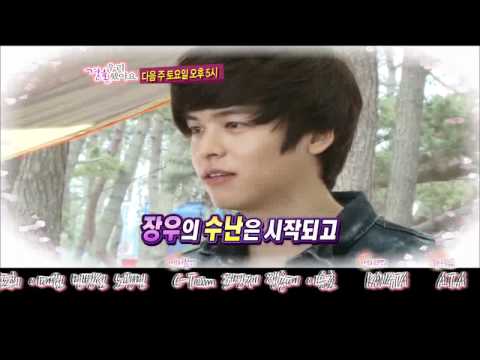 Source: Newsen via Nate