Jang Keun Suk is known for his stellar performances in all his dramas and movies. But Keun Suk is also known for his flawless skin and impeccable wardrobe. He has acted in various dramas and has managed to be a chameleon actor who changes his looks in each project he undergoes.
Star Fashion`s Beauty Paparazzi featured Jang Keun Suk`s newest Love Rain drama character Seo Joon/Seo In Ha in their latest broadcast. They titled him No.1 based on the style adopted in the drama.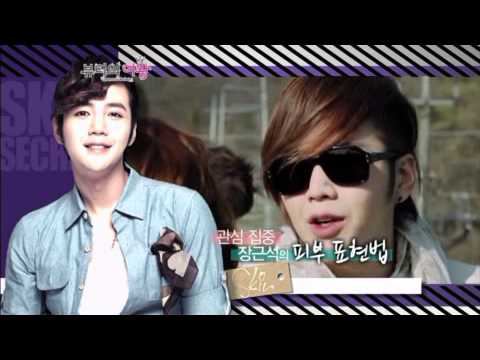 Credit: naturerepublicon
A small interpretation of what this program focused on
Jang Keun Suk was first crowned No 1 for pulling off a professional photographer look to a T. His detail on accessories (hand accessories,bands,shoes) and his hairstyle was appreciated. Major wardrobe fashion which was pointed out were the blue coat, pink trench coat and the purple shirt which proved that he was indeed a fashionista who doesn't fail to try differently styled,cut and colored clothes.
Photo Credit: as tagged
The program also talked about his make-up. His face can adapt to various styles right from Hwang Tae Kyung in You're Beautiful to Momo in You're My Pet.
And now he has once again proved that his face can carry out the chiseled sharp tones of a photographer with Love Rain. Jang Keun Suk plays two roles in Love Rain. In 1970s he adopted a different hairstyle from that of the short and shaved version in 2012.
With slight changes to his eyebrows and hair, he was completely able to change over from In Ha in the 1970s to Joon in 2012. Some of his skin care products from Nature Republic and other lotions, creams was also attributed for the transformation.
Thus, Jang Keun Suk`s transformation for Love Rain is an amazing feat which proves once again the respect Keun Suk has for fashion. The program Beauty Paparazzi crowned Asia Prince as a fashion icon for the right reasons indeed.