Recap: Episode 10
Full Ep. 10 in one part (YouTube- no subs) | (YouTube -中字)
List of Love Rain Episodes (Viki- subs)
Love Rain – Watch List (Krdrama- eng subs) ← scroll halfway down for list and all options
Ep. 10 in one part with mini-ads (DramaFever- eng subs)
Ep. 10 in parts with different mirrors available (Dramacrazy- eng subs)
Love Rain – List of Episodes (KimchiDrama- eng subs)
Ep. 11 preview with Chinese subs: #爱情雨#第11集预告
Ep. 11 preview with English subs: Be sure to turn on the CC.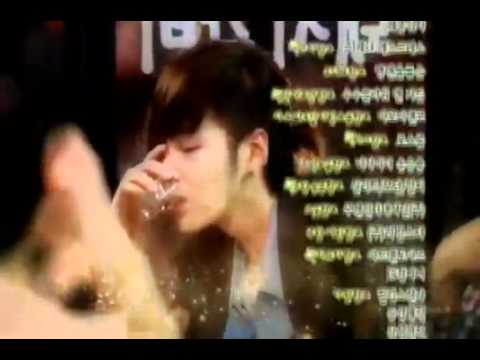 Here are some Episode 10 scenes to look forward to:
EPISODE 10
Recap of yesterday's kiss…
Hana pulls back, shocked. With a smile, Seo Jun soon takes her by the hand and they return home.
When they are at the door, Hana asks Seo Jun about what their relationship is now. Seo Jun responds that there's nothing much to think about.
Sunho and Miho come to see them.
Brother and sister both want to know exactly where Seo Jun will stay. Miho brought out his luggage and says that he can stay at their place. Seo Jun takes his luggage and leaves. The Lee siblings follow behind him. Hana is left by herself.
Later, Hana imagines a situation between Seo Jun and Miho. When she snaps out of it, she thinks about her kiss with Seo Jun.
Inha and Yoonhee talk about their past. They also wonder when they can get together with their children, just the 4 of them.
Yoonhee asks again that Inha shouldn't look for her anymore. Inha replies that when he wants to look for her, he will come to find her.
Seo Jun recognizes Tae-sung. Miho also knows him because Tae-sung is her friend's brother, also the son of the hotel's owner.
Sunho is curious about how Seo Jun knows Tae-sung. Seo Jun just says that they've met several times before.
Seo Jun accidentally knocks over a packet and sees Hana's ring that Jo Soo found when they were in Japan.
At the same time, Hana is in her room thinking of Seo Jun. She wonders if he went to a hotel or to Miho's home. After leaving with his luggage like that, he still hasn't called to let her know anything. She sends him a text message but is surprised when he calls immediately.
As they are talking, Hana suddenly remembers about the boiled milk. She ends the phone call right away… but her last line before hanging up so suddenly makes Seo Jun think some big problem happened.
Seo Jun calls her again but Hana doesn't pick up. He becomes very worried that something really happened and runs to her place.
He can't get through the door. He tries yelling out to her but there is no answer back. He climbs up a ladder to get on the 2nd floor, but sets off the alarm as soon as he set foot on the balcony.
Actually, through all that time, Hana was in the shower. Hearing the alarm, she rushes out in nothing but a robe. Surprised to see her, Seo Jun takes a fall.
After apologizing to the guards, Hana asks Seo Jun if he's been hurt. He says that he's fine and gives her his jacket because she could get a cold from her wet hair. He then limps inside. When he enters his room, he takes down Miho's picture. After Hana enters her room, they continue chatting.
Hana asks Seo Jun if he is going to go back to the hotel. He says that he won't because he's too tired to be running back and forth. He also starts peeking through the bookshelf.
When Hana realizes this, Seo Jun says that it's a window. Through this "window," he passes to Hana the ring. When he learns that she didn't give Tae-sung the ring, he suggests that she give him the ring.
Inha and Yoonhee are having coffee. It doesn't matter that she doesn't want him to, Inha says that he will still come tomorrow. As they talk, Yoonhee comments that Inha hasn't changed one bit.
Sunho tells Hana that she is very healthy.
When Seo Jun appears, Sunho escapes from the room. Seo Jun leaves right after that. During the car ride, he starts texting her a lot.
At the site, Miho sees Seo Jun. Seeing her, Seo Jun purposely texts "Miho" to Hana, making Hana jealous.
Hye-jung meets with Yoonhee, asking if it is really her. They take a walk. Hye-jung makes sure to let Yoonhee know that she wants Yoonhee to disappear from their lives.
Seo Jun is not quite satisfied with the photo shoot. The group keeps changing location. As they are on their way to another place, he suddenly sees a scenery that he likes and makes the car stop right away. Everyone gets out and the photo shoot is done right there. Seo Jun is satisfied with this one.
After the shoot, Miho wants Seo Jun to eat with her. He turns down the invitation, saying that he has something important to attend to and goes to look for Hana.
The guys are surprised to see Seo Jun and Hana sitting together in the yard, back-to-back.
Seo Jun brings out a necklace. He tells Hana that tomorrow is the last day he'll will wait for her answer.
Hye-jung meets up with Changmo and Dongwook, wondering why they suddenly called her to come. Dongwook asks if they want to meet with Yoonhee.
Of course, Hye-jung strongly disagrees. Changmo reminds her that they were all once friends. Like Inha, they want to see Yoonhee too.
Hye-jung angrily says that Yoonhee is really shameless. She hates that even Changmo and Dongwook want to see Yoonhee.
Changmo tells her to have a conscience and stop letting Inha hurt so much.
When Dongwook returns home, he asks his son if he has had a first love yet. When Sunho says that he hasn't experienced it yet, Dongwook tells him about his first love Yoonhee.
Looking at the pictures, Sunho thinks that he really looks like his father but wonders why Hana looks just like Yoonhee.
Inha tries to meet with Yoonhee again for coffee.
Hana secretly enters Seo Jun's room and places the ring where he could find it.
Yoonhee again tells Inha not to look for her anymore. This time, she is preparing to return to America. Inha asks her if she is running away.
As Yoonhee leaves, Inha calls out to her several times but she ignores him. Suddenly, there is a car and Inha jumps out to save Yoonhee. He gets hit instead.
Sunho asks Hana who is in her family, wanting to find out if Yoonhee is her mom. At this point, Tae-sung arrives. Sunho recognizes him from the hotel, making Hana feel weird that they know each other.
Now, Seo Jun returns… making Hana run away with Tae-sung.
Tae-sung thinks that it's not convenient for her to do work for that man (meaning Seo Jun). Hana then tells him that she really wants to stay there.
Seo Jun suddenly finds them, but he overheard a small part of their talk. Seo Jun tells Tae-sung not to come looking for Hana anymore.
Hana pushes Seo Jun and angrily lets him know that in this lifetime, she will not give him an answer. She runs away, but then she remembers about the ring and returns home. Seo Jun has also returned.
Hana immediately hides in her room. She takes a peek through the door.
Thinking that Seo Jun was gone, Hana goes into his room to pick up the ring. She turns around and sees that Seo Jun has entered, making her drop the ring. He picks it up, asking her if this was her answer.
Seo Jun puts on the ring. After a laugh, he hugs Hana, saying that he accepts her answer. Hana says that she still hasn't given him an answer.
Hana now gives her official answer and slips the ring on to Seo Jun's finger.
Yoonhee with Inha at the hospital.
End of Episode 10:
EPISODE 11 preview
Sunho figures out that Seo Jun's dad is Hana's mom's first love. Seo Jun knows this too.
Seo Jun sees his mom walking up to Yoonhee in an angry manner. He steps in to stop his mom from hitting Yoonhee more.
Hana made dinner but Seo Jun came home too late. She is already asleep, so he sleeps beside her.
Credit: KBS2
Source: 张根硕贴吧官方微博 , KRdrama ,  百度贴吧 , homeboy165 , SweetAngelz