Recap: Episode 14 (TBA)
Full Ep. 14 in one part (YouTube- no subs) | (YouTube -中字)
List of Love Rain Episodes: Page 2 (Viki- subs)
Love Rain – Watch List (Krdrama- eng subs) ← scroll halfway down for list and all options
Ep. 14 in one part with mini-ads (DramaFever- eng subs) 
Ep. 14 in parts with different mirrors available (Dramacrazy- eng subs)
Love Rain – List of Episodes (KimchiDrama- eng subs)
《爱情雨》第15集预告
Ep. 15 preview with English subs: Be sure to turn on the CC.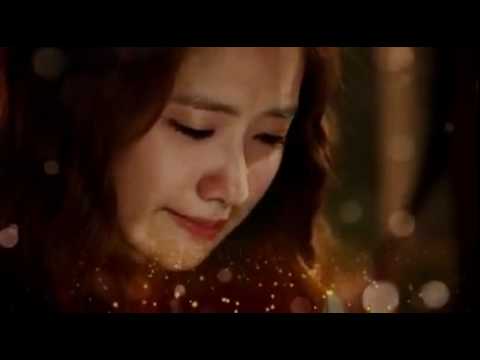 Warning: There are spoilers here.
Also, note that this isn't a full recap but only an overview of the screenshots.
In this episode, there really isn't much to say. It was mostly focused on dialogue.
EPISODE 14
After the introductions and they greet each other, the 4 of them sit down to eat. The mood is very awkward. Inha tells Seo Jun and Hana that he and Yoonhee have decided to get married.
Hana says the dishes here are very good, to which Seo Jun says that she hasn't been eating. He soon gets up to leave, commenting that the next time they see each other… they'd probably be family.
On his way out, Yoonhee shares some words with him and makes an apology. Seo Jun knows that she is being very considerate of his feelings. He asks her one question.
Hana follows Seo Jun outside and thanks him for not being against the marriage.
Seo Jun: Isn't this what you wished for?

She did wish for her mom's happiness. She watches Seo Jun as he drives away and then returns to the restaurant.
Later, Hana has a chat with Sunho over the phone. She tells him that she saw Seo Jun again.
When Seo Jun returns to the studio, he has a talk with Sunho. He says that the 4 of them had finally got together, noting that Yoonhee is very different from his own mom (Hye-jung).
Seo Jun also comments that he and Hana will soon be siblings. 30 years. Their parents have been in love for 30 years. 30 years is hard to imagine. He thinks that it's kind of scary.
Hye-jung tells Tae-sung that there was only just a misunderstanding, making her want Yoonhee to be fired. Tae-sung says that Yoonhee is an important person because she is the mother of the girl who he likes. In return, Hye-jung tells him that Yoonhee is a former classmate who is getting married to her ex-husband.
Tae-sung finds Hana and gives her some words of encouragement. He tells her that he knows about her mom and Seo Jun's dad getting married. Again, he says that in the future, if anything is the matter, she could come look for him.
When Seo Jun returns to his mom's house, Miho is there to greet him. Hye-jung only sets a table for two, saying that she had already eaten and that they two of them should eat together.
When she leaves the room, Miho tries to blackmail Seo Jun into going on 10 dates with her. In the end, he agrees to 2 dates.
Hye-jung insults Yoonhee and Hana in front of Seo Jun. Because she believes that Hana is dating Tae-sung, she thinks mother and daughter are the same. Seo Jun is unable to say even one word back to defend Hana.
Hye-jung thinks she is introducing Seo Jun and Tae-sung to each other. With a "long time, no see" from Seo Jun, she realizes that they already knew each other. Hana sees them and realizing who Hye-jung is, stays in hiding.
Meanwhile, back at White Garden… Sunho notices that something has changed, but he doesn't think too much about it because he's on his way out. Jun-sul soon emerges and starts fiddling around with the plants, to In Sung's dismay. Jun-sul says that he's just fixing it.
Yoonhee reveals that she began tending to plants because of her husband. Inha says that he likes doing this too. When they sit down to rest, they talk about the date and venue for the wedding. They agree to talk it over with their respective children.
Seo Jun is busy with his work. Hana tries to be careful about hiding from Hye-jung but still ends up bumping into her. Hye-jung harshly scolds her and Seo Jun sees it. He didn't realize that Hana was one of the workers for the event.
At this time, Hye-jung sees Sunho arriving and ask why he is here. Sunho tells her that he knows a friend who is nearby. Hye-jung remarks that Miho is really pretty.
Seo Jun and Hana are still talking when Hye-jung suddenly arrives. She recognizes Hana as Yoonhee's daughter and gets very annoyed that his son is with her. She wants to know if this was Inha's arrangement and then says that she doesn't want to hear about brother-sister relations. She orders Seo Jun to make her go away. Hana apologizes and states that she is a worker here.
Seo Jun takes Hana by the hand and leaves with her. Hye-jung seems to want to go after Seo Jun but Sunho and Miho lead her elsewhere.
Seo Jun hates that he has to keep up this behavior.
Hye-jung is very happy to introduce Miho as a "daughter-in-law."
When Seo Jun returns, she says again that she doesn't want to see Hana around. At this time, Miho sees "Tae-sung oppa" and notices that he's pulling Hana by the hand. Tae-sung introduces Hana to the group as his "partner."
Later, Tae-sung notices Hana greeting Sunho. He asks if they are acquainted and Hana answers in the affirmative.
Yoonhee and Inha are just coming in when Hye-jung sees them.
[Gah...! >.< preview succeeded in misleading viewers!]
Hana sees Miho hovering around Seo Jun. Seo Jun notices this, and then Miho sees him looking at Hana. Hana avoids embarrassment by leaving with Sunho. Seo Jun wants to go after her, but Miho stops him. She again threatens to tell his mom about Hana if he walks away. He chooses to walk away from her.
As Seo Jun hurries out, he gets a call from his mom. She tells him that his dad is here and to quickly get here.
Hye-jung, Inha, and Yoonhee sit down together, but Hye-jung doesn't want to to talk to them until Seo Jun gets there. Yoonhee says that there was no need to call the child but Hye-jung retorts that he is her son!
Hana is talking to Sunho. She admits that now that her mom is really getting married, she is not all that happy. She misses Seo Jun and considers if she regretting her decision to not be with him. She wonders if time would really solve everything.  Seo Jun was passing by and overheard the conversation.
Seo Jun goes up to her and says that they should've told their parents from the start.
Seo Jun arrives with Hana following close behind. Hye-jung is not happy at all. Seo Jun declares that he has something to say. However, his mom cuts in to say that she'll go first and then proceeds to toss water at Yoonhee. Everyone is shocked.
Hye-jung clarifies that she will not bless the marriage and that she wanted Seo Jun to see her position on the matter. Then, he could make his own decision (implying that he will either side with her or against her). She has finished talking, and so she gets up and leaves.
Inha goes after Hye-jung while Seo Jun can only helplessly apologize to Yoonhee. Yoonhee tells him not to worry about it.
Hana follows Seo Jun outside. Seo Jun feels very apologetic towards her. Hana is sorry too.
Meanwhile… Jun-sul is creating a racket outside the cafe. In Sung threatens to sue him if he continues. Jun-sul replies that he's singing to the roses because listening to music will make them grow faster.
At this time, the Lee siblings have just returned. Miho wants to destroy the plants because it is Hana's work. She wonders why Jun-sul hasn't left yet and walks away.
Sunho asks him who he is. Jun-sul mistakes him for Seo Jun. He is surprised to learn that he lives here.
The sample of the wedding invitation arrives. Yoonhee admits that she feels a bit strange and asks hana if she just wants to continue living as mother and daughter together. Hana again congratulates her and tells her to not think of others now, but to think of her own happiness.
The singing trio have a drink together. Inha admits that he is afraid that this marriage is going to hurt others.
Meanwhile… Seo Jun is still dealing with Jo Soo's attitude. The stylist is very happy with Jo Soo's response. On his way in, Sunho hands Seo Jun the wedding invitation and asks if he is going.
Later that night…..
The next morning, Seo Jun sees Hana in the garden. She tells him that from now on, she will come often. She will keep tending to the plants just like before and also at the times when she misses him, she will come too.
Seo Jun takes his leave and goes to find his dad. He tells Inha that he has something important to tell him.
Seo Jun lets his dad know that he can understand him better now because he has someone who he loves very much. Inha sadly recalls that he had seen Hana with Seo Jun, in a painful embrace.
Seo Jun is stunned when his dad asks if the person he loves… is Hana.
-End-
EPISODE 15 preview
Seo Inha continues with the "family" reunion, which upsets Seo Jun.
Miho lets Hana know of her intention to date Seo Jun.
To Hana– Seo Jun: I don't care anymore. Will you be together with me 'till the end?
Credit: KBS2
Source: 张根硕贴吧官方微博 , KRdrama , homeboy165 , KBS2TV , 新浪视频 , SweetAngelz