Recap: Episode 9
Full Ep. 9 in one part (YouTube- no subs) | (YouTube -中字)
List of Love Rain Episodes (Viki- subs)
Love Rain – Watch List (Krdrama- eng subs) ← scroll halfway down for list and all options
Ep. 9 in one part with mini-ads (DramaFever- eng subs)
Ep. 9 in parts with different mirrors available (Dramacrazy- eng subs)
Love Rain – List of Episodes (KimchiDrama- eng subs)
Ep. 10 preview with Chinese subs: #爱情雨#第10集预告
Ep. 10 preview with English subs: Be sure to turn on the CC.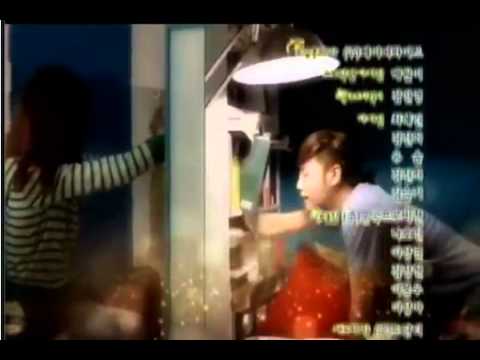 Hello!
As always, if you don't want to know what happens before the subtitles are completed, you are warned about reading further.
If you can't wait at all, just know that this is not a full recap but an overview of some scenes.
EPISODE 9
Seo Jun lets Hana know that he thinks he might like her, creating an awkward moment and making Hana speechless. She admits that it's her first time hearing those kinds of words.
Now the mood has changed, and Hana mentions the woman from the hotel when they were in Japan. Seo Jun is upset that she could talk about that kind of thing in this kind of situation.
Then, as they chat about where Hana is going live, Hana's mother appears. Yoonhee is curious about who Seo Jun is. Hana quickly says that he is no one important and that he is only a guest.
Seo Jun doesn't like how Hana answered her mom and is left frustrated as Hana leaves first, trying to get her mom to leave with her to go eat. But… the dinner doesn't happen because Hana ends up saying that she has to go out for a bit and goes back outside.
As Hana looks around for Seo Jun, Inha appears. Inha clearly recognizes Yoonhee's face in Hana and Hana immediately recognizes him, asking if he is Seo Inha.
At the same time, Seo Jun returns to his car when he remembers that he still didn't hear Hana's answer (to his confession). He gets out of the car and goes looking for Hana.
Yoonhee leaves the house and meets up with Inha, who asks her why she lied to him. She again tells him that she is sorry.
Yoonhee is sorry because he remembers their past while she has forgotten everything.
As Seo Jun is looking for Hana, he almost recognizes his dad but Hana drags him away before he realizes anything.
Yoonhee says that she is happy with the life she has now and wants it continue that way. She tries to say good-bye to Inha.
Meanwhile, Hana tells Seo Jun that the man there was her mom's first love, followed by an imitation of Inha's voice. Seo Jun still can't come to see Hana's point of view on that topic.
After that, Seo Jun brings up the him-liking-her situation and wants to know Hana's answer to that. Hana again tries to use her mom as a reason to leave first, but Seo Jun doesn't let her go so easily. It doesn't end in the way that he wanted and he leaves first this time, not realizing that he passed by his dad along the way.
Back with mother and daughter…
Hana tries to ask her mom who the man from before was, but when Yoonhee doesn't answer honestly, Hana admits that she already knew because she read it in the diary.
Hana wants her mom to be with the Professor, to which Yoonhee replies that she doesn't regret how things ended with Inha.
The next day, Hana waits for Seo Inha outside his classroom. She greets him and they go sit down to talk.
Hana decides to move in according to Sunho's arrangements. Sunho is happy to officially introduce her to everyone as the new gardener and Hana learns everyone's names.
Sunho asks Hana to sign the contract. After she does that, he reveals the full story. Hana starts to have regrets when she hears that it's actually Seo Jun who is the owner.
Sunho tells her that Seo Jun grew up in this place. His parents and Seo Jun's parents are friends.
Hana finally gets the keys from Sunho and he shows her around. However, he feels like he forgot to tell her something…
Surprise! Seo Jun appears, followed closely by Sunho's younger sister. Hana recognizes her as the person in the big picture on the wall.
Not surprisingly, Seo Jun and Hana continue with the arguing. Seo Jun wants Hana to leave but Hana has already signed the contract and so she is not going to leave.
Later, Hana gets a welcoming party.
Inha appears before Yoonhee again. Again, he asks for them to have a new start.
Meanwhile, Seo Jun is with Sunho's sister (Miho). He wants her to remove her picture from his room, or otherwise he'd throw it away. She believes that since they know each other from childhood and grew up together, Seo Jun is her destiny. Seo Jun doesn't believe that.
Seo Jun and returns to see everyone participating in a drinking game. When everyone wants Hana to drink another cup, Seo Jun takes away the cup and warns her not to drink.
Inha sends Yoonhee a text message. She listens to the attached recording. She gets emotional as she hears Inha's voice from the past and also him singing "Sarang Bi" at that time.
Seo Jun finds that Hana didn't go to her bed to sleep and brings her a blanket. As he is leaving, a drunken Hana suddenly wakes him and grabs him, making him fall. He tries to get up but Hana won't let him.
Hana starts playing with his face. Her true thoughts start to reveal themselves.
While she is in her drunken state, Seo Jun steals a kiss. He tries to kiss her again… but at the critical moment, Hana passes out.
When Seo Jun wakes up the next morning, he is very conscious of Hana's presence…
Seo Jun walks out and finds Hana, who is not very happy to see him….. Knowing that she can't remember what happened last night, he starts to tease her.
They continue to quarrel as Seo Jun suddenly starts taking pictures.
Yoonhee gets an eye exam. Afterwards, she thinks about making a certain phone call but decides against it. As she is walking away, she doesn't realize that Inha is following behind her. Inha makes the decision to run up to her and this time, she goes with him to his home. She gets to see his paintings.
Later, when Seo Jun is at work, his mother appears. She introduces him to a famous designer who loves Seo Jun's photography. Seo Jun responds by saying that he is excited to work with him.
As Inha and Yoonhee talk, he cooks.
Seo Jun suddenly calls Hana to "arrange" a meeting time. Some time later, she is running back to her room and struggles to decide what to wear.
He soon overhears his mom's phone call. Later, she catches up with him so that they could have a talk. He reminds her that all this time, his dad has not forgotten his first love.
Hana is carefully dressed and wonders where Seo Jun is. She's waited long enough and just as she is about to call him, he shows up.
Hana notes that Seo Jun doesn't seem to be in a very good mood and asks about it. As they talk, Seo Jun says that just as Hana hopes that her mom could meet his first love again, he also hopes that his parents could have a good life.
Seo Jun steals another kiss from Hana. Shocked, she stays silent. Seo Jun counts to 3 and then kisses her more. Suddenly, the water behind them turns on and she gets up to avoid getting wet. He pulls her in for another kiss, and she doesn't stop him this time either.
That's it for Episode 9! Can't wait to see Episode 10~
EPISODE 10 preview
Inha saves Yoonhee from getting hit by a car. They share an emotional hug at the hospital.
Sunho's younger sister also knows Han Tae-sung.
Seo Jun and Hana both wear rings, the symbol of a promise to each other.
Credit: KBS2
Source: 张根硕贴吧官方微博 , KRdrama , homeboy165 , SweetAngelz