Hi Cassies,
We have recently known that JYJ has been selected as Honorary Ambassador for ICAAP10 (The 10th International Congress on AIDS in Asia and the Pacific) that would take place in Busan (BEXCO building), August 26-30. Representing JYJ, Yoochun and Junsu came to the appointing ceremony today while Jaejoong, due to his packed filming schedule didn't make it to the conference.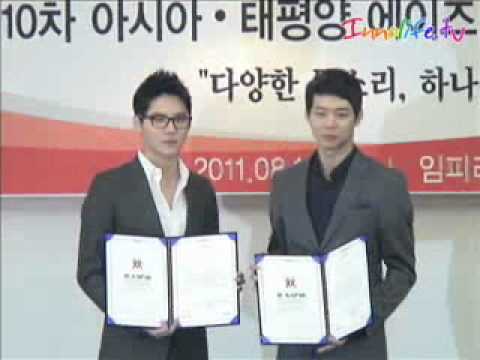 The event will be expecting about 4,000 Participants from 70 countries (Overseas: 3,500, Domestic: 500) with English as the official language (Korean interpretation is provided for opening and ending ceremonies)
With JYJ being the Ambassador for the program, it is surely that the program would attract a lot of interests from young people not only within South Korea, but also from overseas, especially in Asia-Pacific area.
Let us wish the Congress ends with success and JYJ finishes their mission in cheers.
Source: TheSTAR.net, Youtube.com, ICAAP10 official website
Written by: Katie Phan/ Associate Writer