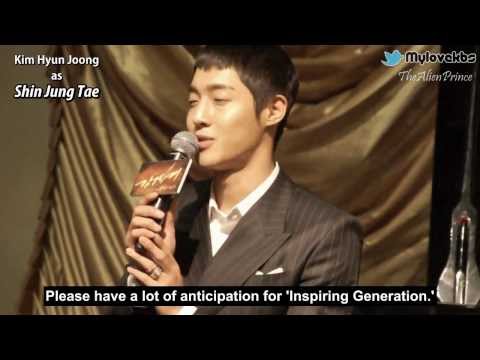 Inspiring Generation, (a.k.a Age of Feelings) introduced their characters at the drama's showcase on December 2, 2013. – Kim Hyun Joong as Shin Jung Tae – Im Soo Hyang as Deguchi Gaya – Jin Se Yeon as Yoon Ok Ryeon – Kim Kap Soo as Denkai (Japanese Yakuza head and Gaya's adoptive father) – Son Byung Ho as Choi Po Soo (a friend of Jung Tae's father and Jung Tae's martial arts teacher who always protects him. Jung Tae's 'guardian angel'.) Title: Inspiring Generation (감격시대) Broadcast date: January 15, 2014 Runtime: Wed & Thu 21: 55 Episodes: 24 video credit to 1004KBS / @MyloveKBS
Youtube video upload by The AlienPrince,  requesting not to re upload.
thank you for your video shared to us Alien Prince.