For the first time, Miss A performing LIVE with band on stage and got some interview. Read all of this article to know what the interview is about.
They share what they feeling sincerely infront of fans. Suzy said "It's cool & we really excited" when the MC ask about performing with band.While Jia said the band give them so much strength and Min get confused dont know what to do when look the band play guitar behind.
The MC also ask them what they own music style. Min replied that she love hip hop when she was young and she just wanted to take off heels and dress to dance on the stage with sporty shoes but recently she prefered electronic. However Suzy like the song that she will never get boring listening until die for example Corinne Bailey Rae song and she really love to listen Avril Lavigne music/song. Suzy also sing the song from Corinne Bailey Rae "Put Your Records On",she sing with fully lovely voice,watch it below.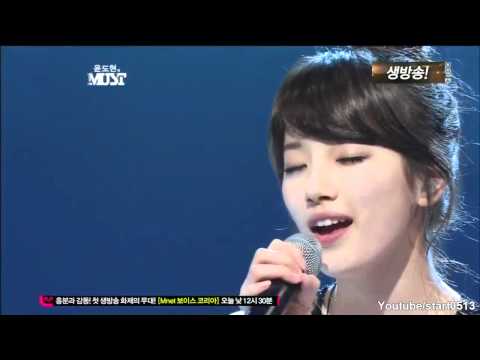 When the MC ask if they has told JYP about the idea they want while making album,Min answer it carefully. Yes they got so many idea but they are not sure if the idea are suitable or not,since they CEO (JYP) has many original idea so they trust him.
For they new comeback,the MC said they look so feminine. He ask them if they like feminine or powerful? Jia strongly replied "i like the song which i can express the self-control of modern women.Like "Shut Up Boy","you dont know me" "and the MC quickly said that they make him scary,like they wanted to say it to him (they end up with laughing). While Min giving her view point that "boys feel like they were really reckless and daring but girls can feel it,they feel the lyrics help them to say out their thinking".
Jia continue with sharing her feeling when they first debut,she has dyed her hair with pink colour and for her it's look cute but when she start sing "shut up boy" and "you dont know me",everyone all scared. She start laughing and say "maybe its not to scary".
In this interview, Min also reveal that she like to eat a lot and shout out loud at home when she feel stressful. She added,this is the chance (eat) because when they are working,they dont eat enough. The MC start to make a joke by saying that Min is easy to gain weight.
The last question from the MC to Suzy about her future as an artist. Suzy answer it with fully convinced that she will practise hard to improve her singing skills and also want to act well since she got many target that make her to try hard as much she can do.
Fei who was quiet from the interview start lastly talk. Fei said "beside singing and dancing,i also want more.I want to try acting,it's really great if i can act". They end the interview with perform Bad Girl Good Girl with new version which can give them chance to communicate with audiences,watch the perfomance below..!
Credit to video uploader from Youtube.