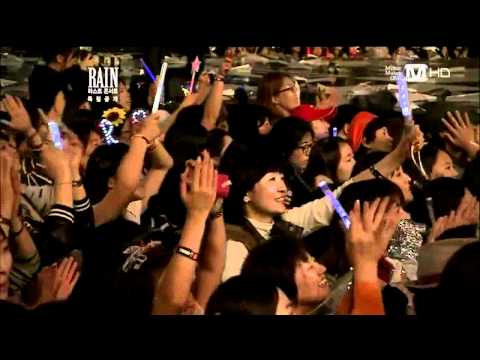 credit: ratokarain
Eng Trans]11-10-09 Rain reading his fans a letter he wrote (during the second part of "Last OF the Best" concert on 9 October 2011)
0:16~1:31
I couldn't fall asleep last night so I wrote a letter.
(So now I try to read you the letter.)
Hello, everyone. This is 'Jung Ji Hoon' (Rain).
It's been about 10 years since I debuted.
Thanks to your support, I was able to accomplish so much like this, and my determination was able to carry me through the ordeal when the job was so hard I just wasn't able to endure it any longer and when the process, besides tiring, was troublesome and painful.
It's a little too late for me (to serve in the army), but I try to become a real man.
I also seem to have a chance to look back on my life.
Entering the army at my age makes me embarrassed and sorry.
Thank you for the support you have given me over the past decade.
I'll return home in more mature 'Jung Ji Hoon'.
Thank all of you and my parents and sister for always supporting and trusting me.
I'd like to thank all my fans for their ongoing support.
To my fans with best wishes from 'Jung Ji Hoon', on 9 October 2011.
Thank you.
CREDIT: DC
English translation by rain bird.