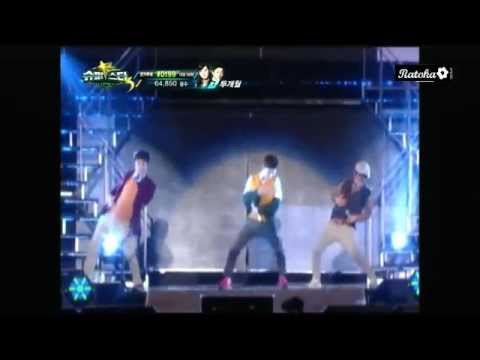 Rain who was about to give a main road concert before entering the army, became a mentor for would-be singers to instill confidence into them as part of cable channel Mnet's "Super Star K3″, a success in which has opened careers to a number of young aspiring singers.
1:24~1:40
Somebody was coming soon and they were counting the hours.
It was world star Rain who was involved in rehearsing before giving his best performance. The concert venue was packed with people all over the world.
1:41
They exchanged greetings, and his sudden entrance took everyone by surprise.
1:52~1:59
Rain : I'm a huge fan of you. Nice to meet you.
I want to be a mentor for you to help develop your sense of confidence.
2:01
A : I have no self-confidence on stage.
2:08~2:18
Rain : Prose do not think they are mistaken, despite making any mistake on stage.
Like this, you should make your performance keep running as if nothing ever happens.
You can draw a conclusion from the facts. Only practice will make it perfect, and preparation has to become your habit.
2:20~25
Each of men : My ugly face is a thorn in my side.
2:26
Rain : You need not be frustrated because you are not handsome.
I don't think men have to have a double eye lid.
2:35~2:50
Rain : I had failed auditions 18 times 10 years ago. They told me straight what is wrong with me, "Your eyes are too small and you are ugly." Lastly, I auditioned before JYP (Park Jin Young).
Actually, I'm more handsome than him, ain't I?
So I didn't think he would reject me because of my face. Just kidding."
2:52~3:04
Rain : I am indebted to my small eyes for what I am.
And to conclude, I was able to turn them into something my own.
Now I'm proud to be different and original.
3:04
Rain : You are better looking in person!
3:08~23
B : Thank you!!
His encouraging words have revived my drooping spirits.
C : I find it takes more than good looks to be a star at his remark.
A : After what he said, I was convinced. I've learned appearance is not everything and charisma is more important on stage.
3:24~29
Rain : I hit on a new idea on a sudden. I suggest you (Two Months & Ulala Session) stage the opening of my concert.
3:40
Everyone : My mind went blank when I listen to him.
.
.
.
.
.
6:48
Rain gave each of them a warm embrace after the conclusion of the show.
6:53~55
Rain : Please sit down..Good work!
I don't think 'Daeyun's face looked strained in the performance.
6:57
'Daeyun' (A) : But I was so nervous then.
6:59
Rain : Can you try it again?
7:06
Rain : What was it like being on stage ?
7:08
'Daeyun' : I went out of my skull when I stood on the stage.
7:09~7:13
Rain : You did it really well. But please don't ever perform such a dance movement. Just kidding!
7;15
Rain : I've graded your work after watching your performance.
7:25~26 
Rain : I hope I'll see your success in two years (when I'm separated from the army.)
I look forward to seeing you, by definition, becoming a super star in two years time.
7:27
Everyone : Thank you!
7:29
Rain : Well, let's do fighting!
Credit  ratoka @ YT http://www.youtube.com/watch?v=b7LifmLeYxM
English translation by rain bird.