The four ladies of Secret were recently in Singapore for their first ever fanmeeting event. The event was also graced by a special guest appearance; their own labelmate and rookie group B.A.P. The charming ladies arrived with a glow at the press conference venue at Grand Copthorne Waterfront Hotel.
Debuting under TS Entertainment, Secret consists of leader Hyosung, rapper Zinger, vocalist Ji Eun and visual Sunhwa. Breaking into the K-pop music industry in 2009 with debut song 'I Want You Back', the girls are transcending borders and bringing the hallyu wave abroad. They are also known for their fast tracks such as 'Madonna', 'Magic' and 'Shy Boy'.
Ji Eun recognizes the effort of fans who present them with handwritten letters, especially mentioning overseas foreign fans who actually try to write in the Korean language.

When asked to name an artist for future collaborations, Uhm Jung Hwa was picked. She is a singing legend, known for her hit song D.I.S.C.O which featured Big Bang's T.O.P.
Find out the naughtiest member of B.A.P as revealed by leader Hyosung. Try to make a guess and see if you got it right!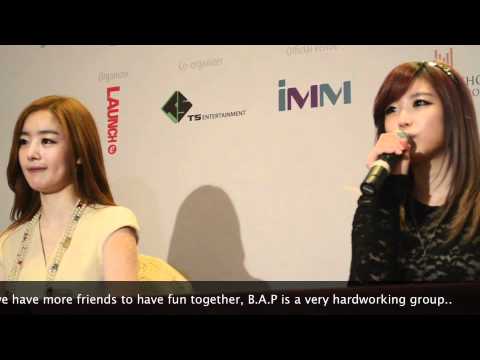 Have you checked out our press conference coverage of B.A.P as well as the insanely hyped fanmeet event?
Korea.com would like to thank organizer Launch Group and TS Entertainment for this exclusive opportunity to cover the press conference of Secret & B.A.P 1st Singapore Fanmeeting.