Recap: Episode 11
Full Ep. 11 in one part (YouTube- no subs) | (YouTube -中字)
List of Love Rain Episodes: Page 2 (Viki- subs)
Love Rain – Watch List (Krdrama- eng subs) ← scroll halfway down for list and all options
Ep. 11 in one part with mini-ads (DramaFever- eng subs)
Ep. 11 in parts with different mirrors available (Dramacrazy- eng subs)
Love Rain – List of Episodes (KimchiDrama- eng subs)
《爱情雨》第12集预告 ( 但那个…儿子…这是不对哦! )
Ep. 12 preview with English subs: Be sure to turn on the CC.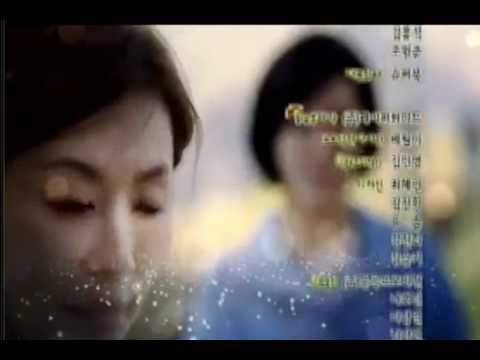 Please don't read this post if you don't want to know what happens.
Also note that this is not a full recap, but only an overview of scenes in last night's epsiode.
EPISODE 11
Recap of last week's exchanging of the couples rings…
Seo Jun wants Hana to say it again but she pretends not to hear.
Seo Jun answers a phone call and immediately rushes out the door.
The 3 guys now approach Hana and give her warnings. After that, they take a bet on Hana's fate with Seo Jun. They think that their relationship will last 1 week, 2 weeks, 1 month, or 2 months.
Sunho continues to ask Hana about her mom.
Seo Jun gets to the hospital and hears from his mom that his dad's injuries are not that serious, but he is also unhappy to hear about his dad's first love.
Seo Jun sees his dad sitting with Yoonhee. A nurse calls away Seo Inha, leaving Yoonhee by herself. Hye-Jung approaches her and has nothing nice to say. Seo Jun sees his mom slap Yoonhee and steps in to stop her from hitting again. He then leads his mom out of the hospital.
As Seo Jun escorts his mom home, Hana is still wondering about what happened. She doesn't like that he still hasn't contacted her… returning to the idea that he really is a bad man. Seo Jun now realizes that he's in a tough spot.
Seo Jun decides to go see Hana, who is at her mom's house. When she walks out, he covers her eyes and asks her to guess who. He wants the two of them to leave together but Hana says that she didn't lock the house door.
Hana doesn't want to invite Seo Jun inside but when the sprinkler system turns on and they get soaked, she doesn't have a choice. This time, Seo Jun gets to wear Hana's clothes!
Seo Jun makes his way around the house and almost enters Yoonhee's room before Hana stops him. If he had entered, he would've seen Yoonhee's picture.
Seo Jun sees the door to Hana's room but of course she tries to block him. He quickly distracts her and just opens the door. His attention zooms in on the pictures of Hana as a child and the camera in front of them.
Hana asks Seo Jun what's wrong. He says that things at home are a little depressing since his dad has met with his first love.
As they talk, it seems that Seo Jun is going to kiss Hana but suddenly Yoonhee enters the house and calls out to Hana. They start panicking, especially when they remember about Seo Jun's clothes. Hana tries to distract her mom while Seo Jun makes his escape. She then passes him his shoes through the window and he gives her a quick kiss. He takes off after reminding her to not come back too late
As Seo Jun is leaving, he sees Tae-sung approaching the house.
Back at the house… Yoonhee admits that she wants to start over with Inha, to which Hana raises her hand in approval. Hana then reveals that she likes someone, making her mom ask if it is Tae-sung.
Hana goes out and realizes that Seo Jun hasn't left yet, who says that he wanted to see her again. Hana lets him know that she told her mom about him.
Seo Jun admits that he doesn't seem to be himself whenever he is with her, that he suddenly becomes shy. This can be only be explained by that fact he likes her, and so she must stay by his side. They hug and part ways on a happy note.
Seo Jun returns to his mom's house and sees an ambulance. Hye-jung is drunk and the doctors are trying to hold her still.
The next morning, Hana gets a text from Seo Jun saying that he returned home and because she wasn't there, he couldn't sleep. He misses her a lot.
Seo Jun goes to the hospital to see his dad. Inha asks him if he has seen Yoonhee.
Seo Jun also apologizes to his dad, now admitting that he and his mom were wrong before. Even still, he tries to convince his dad to let go of his first love because right now, his mom is unhappy.
Inha also feels apologetic towards his son for making things hard on him. However, he also says that if he could've given her up before, he would've done that a long time ago.
On his way out, Seo Jun sees Yoonhee and recognizes her as the woman he saw sitting with his dad before. He hears Hana calling this woman "Mom" and then sees his dad approach them. Seo Joon now realizes that the first love who Hana was always talking about turns out to be his own dad.
Seo Jun gets in his car and struggles to hold back his tears. He goes off to a shooting range to vent.
While Seo Jun is out doing a photo shoot, Hana prepares dishes for Seo Jun. Sunho helps out.
As Seo Jun starts to get drunk, he doesn't hear Hana's phone call. Assistant Jo Soo comments that Seo Jun is drinking too much, but Seo Jun doesn't listen and continues to drink.
As Jo Soo tries to lead Seo Jun out the door, Seo Jun bumps into incoming guests. A fight breaks out.
Yoonhee says that when she got better, she did return to Korea, only to learn that Inha got married. Since that time, she's been trying to forget him. She thanks him for allowing the memories to return and for letting them become a reality, which gave her courage.
Seo Jun finally returns home and sees the leftovers from the dinner. He sees a sleeping Hana and lies down beside her.
When Inha is discharged from the hospital, he and Yoonhee continue to talk as they take a walk in the rain. Meanwhile… Hana gets a shock when she wakes up, especially when she sees Seo Jun's blood.
Hana treats Seo Jun's wounds and tells him not to get hurt again because she doesn't like seeing him injured. She also reminds him that last night, she waited a long time for him. They continue to bicker as Seo Jun insists that nothing happened.
Their quarreling continues as Hana tries to do work for the garden. Even though he said he wouldn't help, Seo Jun soon takes over the work after a wood block falls on Hana's foot.
Hana suggests to do the work together but Seo Jun says that he can do the work perfectly on his own. He tells her to sit and sleep for a bit. He admits that he hasn't really done anything for her yet.
Miho arrives and seeing Hana, thinks that she looks exactly like the face in the photo. Sunho steps in and changes the subject.
Seo Jun, Sunho, and Miho leave to go see Seo Jun's mom. Hana is left on a sour note as she watches the three of them leave together.
Seo Jun turns to back to say goodbye to Hana, but she is on the phone with her mom and doesn't notice him behind him. After she hangs up, Hana asks him if his mom is very ill.  Seo Jun also says that they will go out to eat dinner together, so she should come beautifully dressed.
Seo Jun and the Lee siblings arrive to hear Hye-jung shouting. Sunho wisely leaves with his sister and Seo Jun goes upstairs to mediate.
After meeting up with Hana, Seo Jun's mood improves a lot. They go shopping and buy a lot.
However, his mood drops again when he realizes that Hana is in a very happy mood because her mom and her first love are starting over. Seo Jun asks her if her mom's happiness was more important than her own happiness, to which Hana answers that it is.
Seo Jun suddenly spots his dad and takes off running with a confused Hana. When they stopped, Seo Jun painfully lets her know that this is where they end.
EPISODE 12 preview
Hana struggles to make sense of why Seo Jun would suddenly want to break up.
Kim Chang-mo's rocker nephew (as played by Seo In Guk) will appear. He has his eye on Hana.
Credit: KBS2
Source: 张根硕贴吧官方微博 , KRdrama , homeboy165 , SweetAngelz